A serious painless problem of diabetics ...
In Germany there are about 4 million patients affected by diabetes, the majority of whom are elderly people.
3-10% of these patients are at risk of developing a so-called diabetic foot syndrome.  
It is important for those affected to observe changes in their own feet: muscle atrophy, loss of stability in the joints, deformation and dehydration of the feet, the skin becomes brittle. This quickly leads to the formation of haematomas, which become inflamed. This leads to the formation of ulcers.
The treatment of diabetic foot syndrome is long and difficult.
Because of a poor feeling in their feet large ulcerations can appear.
Conventional surgical interventions are dangerous because they require large skin incisions.
By using minimally invasive techniques in our practice, we can also successfully treat such patients surgically.
The operation is performed without anaesthesia and the full weight-bearing is possible immediately.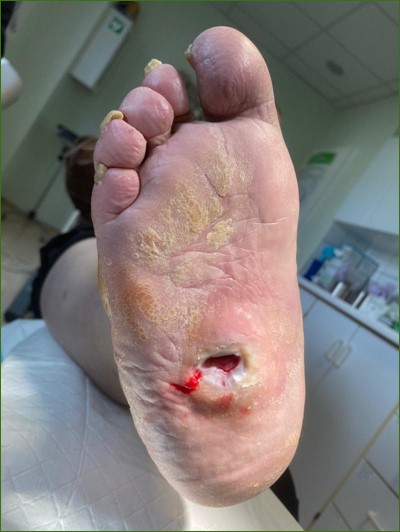 The left picture shows a large malum perforans (ulcer on the sole of the foot) caused by high pressure from the bones destroyed by diabetes.
The patient suffered from this ulcer for several years.
In the picture on the right you can see the condition after healing of such an ulcer in one of our patients.
Here, the therapy was carried out using the proven minimally invasive technique.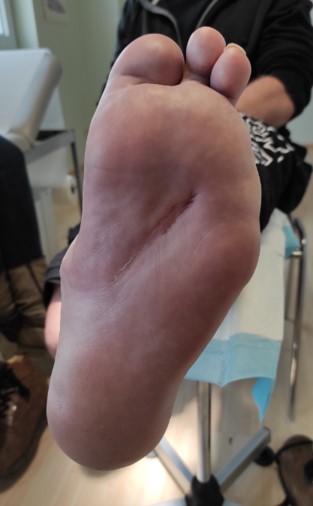 DO YOU HAVE ANY QUESTIONS ?
All questions concerning the operation will be answered in a detailed informative conversation.

We are looking forward to you !